Skip Navigation
Website Accessibility
You're Invited To Attend Our Maker's Market!

The Maker's Market will be a one-day craft fair that will take place at Sew Sew Studio on Monday, December 4, from 3 to 7 PM.

At the Maker's Market, our customers - AKA the makers - will be the vendors, and they'll be selling their phenomenal handmade products. This craft fair will be an excellent opportunity for you to start crossing items off your holiday gift list. Each of the makers creates wonderful, one-of-a-kind items, all of which are sure to be heartfelt and deeply treasured presents that your loved ones will adore. Zipper pouches, tote bags, beautiful wall hangings, wooden clappers, machine embroidered accessories, knitted goods, and more... you can find it all here!


Our Maker's Market will coincide with the Franklin Grove Holiday Market, a family-friendly event where all of the businesses in our shopping center partake in the Christmas festivities.


In addition to the Maker's Market craft fair at our store, there will also be:
• Special holiday activities at each business
• FREE photos with Santa and the Grinch
• Half-price pizzas and calzones at Fox's Pizza Den
• A hot cocoa bar
• $5 ornaments at Twisted Moon Studios
• A raffle at our store
The fun starts on Monday, December 4, from 3 to 7 PM. Everyone is welcome to attend.
It's going to be a spectacular afternoon full of fun, holiday spirit, and Christmas cheer. With you here, it will be even better!



Meet The Makers!
Of course, our Maker's Market wouldn't be nearly as magical without our tremendous makers, all of whom are fun-loving, creative, and incredibly talented. We are so grateful that they graciously agreed to participate in this event, and we can't wait to see their businesses thrive.
You're going to think they're awesome, too! Let's meet them and see what they'll be bringing on December 4!

Jeannie Smith

---
---

Jeannie is fabulous! She's a retired graphic designer, a captivating and magnetic storyteller, excellent baker, an even better quilting instructor (she taught our Twisted Foursome quilt class and received rave reviews!), and one of the most enthusiastic quilters/crafters/sewists that you will ever meet. Her passions are many, and in our Maker's Market, she will highlight one of them: knitting. At Princess Knits-A-Lot, you will find charming knitted products, many of which focus on UGA and all things red and black. It's the ideal place to shop for the dawg lover in your life!


Gina Griego
Gina operates Two Frisky Goats Farm, a small business with an awesome name that makes luxurious goat's milk skin care items from scratch. Everything that she and her business partners produce is done in a small batch format, hand cut, and made with oils that work wonders on your skin.
Everyone needs these glorious skincare items in their life! Make it a "must-do" item on your holiday bucket list to visit Two Frisky Goats!
Weldon Patterson
---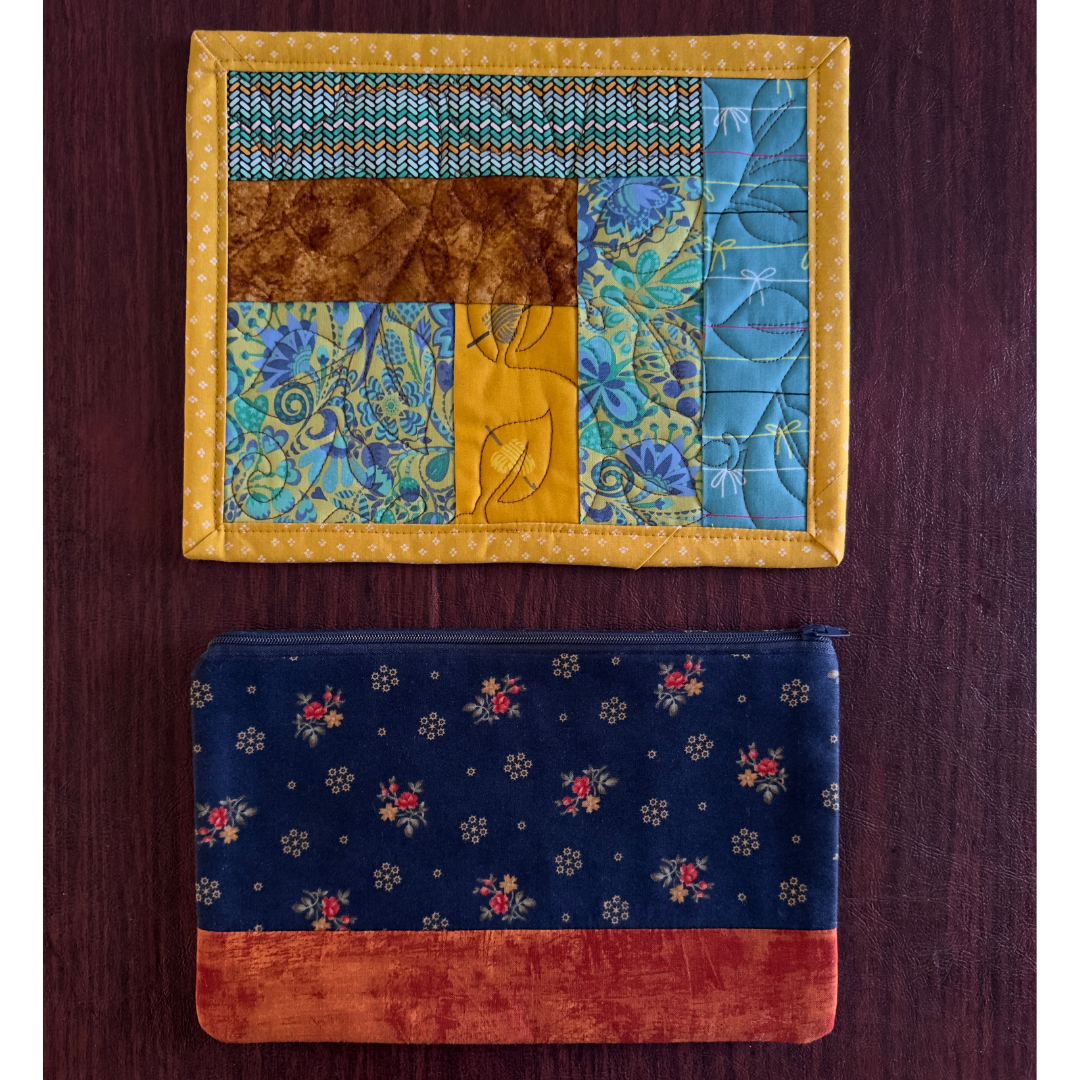 ---
Weldon does it all: he's a retired computer programmer, budding actor, embroidery enthusiast, needlecraft junkie, quilt shop associate, and devoted husband to his lovely wife, Beverly. Between the two of them, they enjoy sewing, knitting, crocheting, spinning, and weaving. (Told you he does it all!) Now, they can add one more thing to their extensive resumés: shop owners of Pattmade, a small handmade goods shop that reflects their love for textile arts. One day, they'll rule the world. For now, however, you can find them at our Maker's Market!


Jenny Dillard

---
---
Jenny never fails to impress us with her amazing projects. She's a wiz with all things machine embroidery — especially with Artistic Digitizer — and always makes some of the coolest, most professional-grade handmade items that we've ever seen. When asked how she manages to create such incredible things, she simply says, "Oh, I just made it." (As if it were easy.)
Although she's almost always sewing or embroidering, this will be her first time selling her items. (When she's not doing these two things, she's working as a full-time paralegal or spending time with her beloved French bulldog and hairless Chinese crested dog, Frida Truffles and Tank.) Through her new shop, Because She Said Sew, Jenny will have mini notebooks and planners, zippered pouches, fanny packs, large totes, machine embroidered patches, fabric magnets, bookmarks, and many other things. She's very talented and makes very fun projects; you're going to want to get a couple of things from her table while you're here!

Holly Weimer
---
---
When she set a 2020 New Year's resolution to sew more, Holly never imagined she'd be a vendor at our Maker's Market, but that's exactly where she is now and we couldn't be happier about it!
She started by making bags, then moved on to quilts (she finished 3rd place in our 2022 Christmas Quilt Contest! ), and soon enough, this new hobby quickly morphed into a full-fledged addiction, where she began making whatever she could get her hands on. Aside from quilting, she also makes baby gifts, wristlets, headbands, keychains, toiletry bags, duffel bags, totes, book sleeves, quilty sweatshirts … you name it, Holly has probably sewn it. When she's not stitching, she's busy working in higher education prospect management, which she absolutely loves.
Charles Nicolosi
---
---
It all started when Charles's grandmother gifted him a couple of quilts 11 years ago. Seeing the amazing detail on the quilts, he was inspired to learn how to sew. Now, he's an accomplished artistic sewist who's always experimenting with new mediums, materials, and textures. Most importantly, he's the proud owner of Geek in Stitches, an Athens, GA-based small business founded in 2020. (His grandmother, on the other hand, is now 96 and has recently moved to Athens.)
Throughout the year, you can expect to see the "Geek" — AKA Charles — at craft fairs around Athens and Metro Atlanta. He makes practical sewn items, such as unique trivets, microwave bowl holders, zipper bags, and fabric art that features quilted and mixed media details.
We are delighted that Geek in Stitches is joining us as one of our vendors at our Maker's Market. Stop by on December 4 to browse his wonderfully creative products!
Tonya Allen


---
---
A garment-making extraordinaire, an avid cosplay fan, and one of our fantastic sewing instructors — She's Tonya!
Having grown up in her parents' antique store, Tonya has always been able to recognize the beauty in the broken. She's taken this experience, as well as her mother's teachings about costume history and historical preservation, and transformed them into a sewing style that's all her own. Tonya's projects have a strong focus on up-cycling and repurposing. She also specializes in making costumes, which bring are her greatest joy.
Through her shop, MiaLa, she sells handmade clothing, bags, pouches, costumes, and Nordic Kindness Elves, which are a holiday must-have. With their knitted hats, full skirts, jovial facial expressions, and festive outfits, these elves will quickly become a Christmas heirloom in your home.


Sarah McAuley


---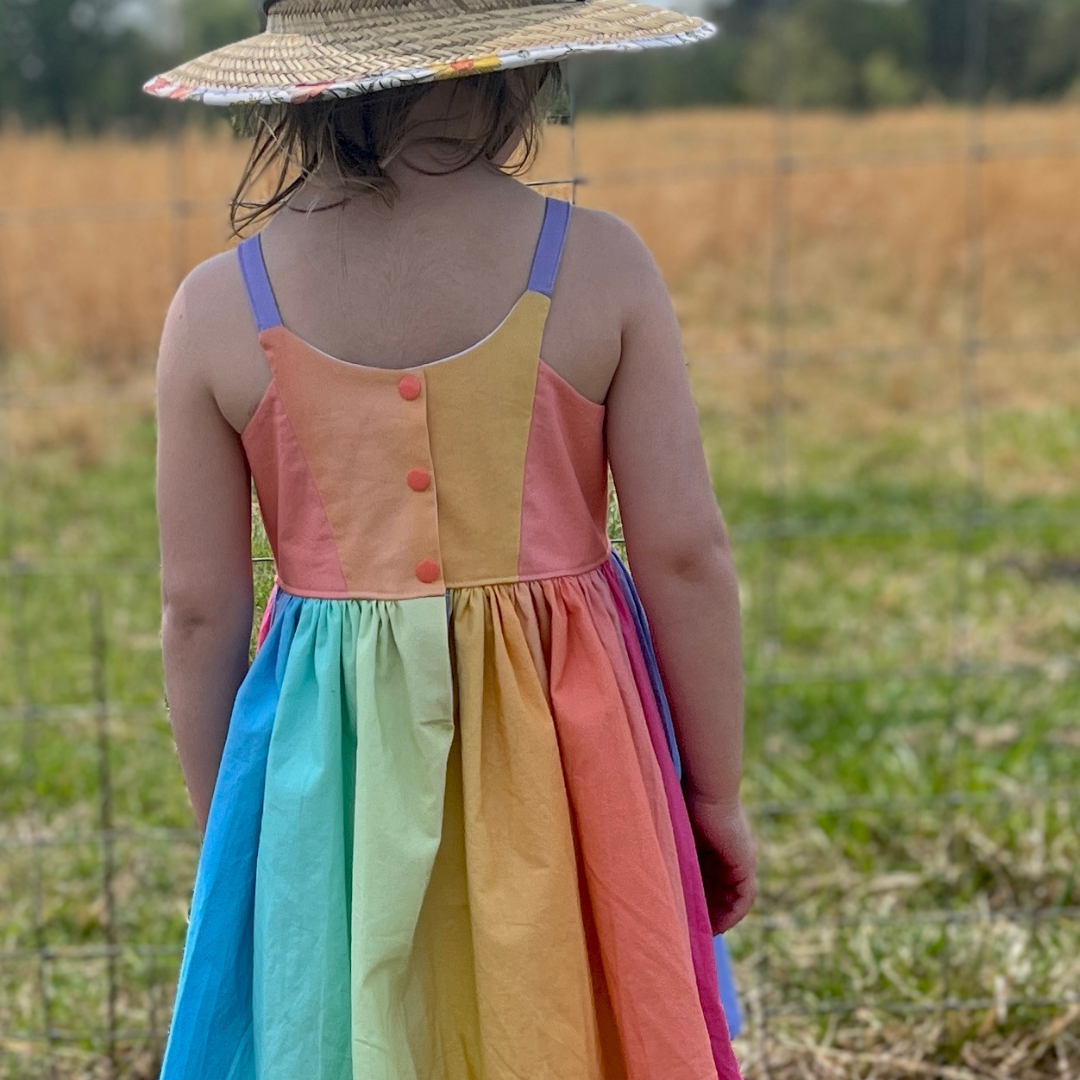 ---
After sewing clothes for her family for over ten years, Sarah opened her online shop, Lily Goat, in January 2022. There, she sells handmade dolls and women's and children's clothing and accessories. She strives to offer only the highest quality products; we know that your family will love using everything that she makes!
Katherine Broyles
---
---


Do you want a ray of sunshine in your life? Then you must stop by to see Katherine!
Modern, hip, trendy, and a little bit sassy, Katherine's items are the perfect representation of her happy and energetic personality. Through her shop, Daisy and Mum Quilt Co. (named after her girls' birth flowers), she sells groovy, colorful, and oh-so-retro tote bags, zipper pouches, book sleeves, fanny packs, and crossbodies.
Quirky HST sequences, repurposed quilt blocks, and scrappy patchwork are amongst the trademark designs in her shop. No two items are alike — you may have to fight someone to get that gorgeous floral item that started calling your name as soon as you walked into the room.
(She recently started making things with antique napkins and they are, in Katherine's words, *chef's kiss*. 👩‍🍳)
Sharon Craig
---
---
Sweet as can be and endlessly creative, not a day goes by that Sharon isn't busy with a craft or two. She enjoys cross stitching, appliqué, rug hooking, doll making, and, of course, sewing. Now, she's adding one more thing to her busy list: selling!
For our Maker's Market, Sharon is offering ultra-cozy and fit-for-the-season items that you (and the rest of your family) will use non-stop this winter season. Collect all of her cozy sweatshirts, flannel shirts, tea towels, and table runners, all of which feature vintage-inspired snowmen and darling stitched details.
Jo Ann Adams
---
---
Our favorite thing about Jo Ann is that she is a true out-of-the-box thinker who never stops creating.
(She's also our official quilt shop advisor and an occasional, albeit extraordinary, substitute staff member. She's an awesome person!)
As a quilter, embroiderer, and bagmaker (who also knows a thing or two about leatherwork), she has a wide skillset that she uses to create projects that will knock your socks off. She makes cell phone loungers, pot holders, key fobs, spring baskets for threads and scraps (an ingenious creation!), handmade seam rippers and styluses, binding winders, wooden clappers, ruler holders, and much more. A true out-of-the-box thinker with an astounding eye for detail, her projects are extremely well made, finished with leather tags, rivets, and perfect topstitching, and will bring joy to you and everyone you know.
You have to come and browse Jo Ann's tremendous products at our Maker's Market!