Skip Navigation
Website Accessibility
Black Friday BLOWOUT!

You do not want to miss Black Friday at our store— SO MANY free things, storewide discounts, and major savings on incredible machine bundles!

On top of all of this, most machine purchases are receiving free BONUS gift packages or gift cards to Sew Sew studio.
It is THE best time to buy a machine for an absolute steal!

These offers start and end on Black Friday, so make sure you visit our store on on that day to take advantage of these spectacular deals!

Ready to see all of our Black Friday promotions? Let's go!
(Warning: LOTS of offers ahead.)

You get bonus gifts, and you get bonus gifts...

EVERY machine purchase this holiday season will get a bonus!

Here's what you could receive:

For machines that are on Janome's holiday gift guide
Every year, Janome releases a holiday gift guide. Click HERE to see it.
This guide features their most popular machines, and if you purchase one of these machines, you'll receive one of two things:
• A free bonus gift
OR
• A discounted gift package

The machine that you purchase will determine if you get a free gift OR a discounted gift package.
Most machines that are listed on the guide come with a free bonus gift, but there are some that only have a discounted gift package.

For example, if you purchase the 550E embroidery machine, you'll receive a free bonus gift valued at $1,280. If you purchase a CoverPro 3000P, you can add-on an accessory bundle for $273. (It is valued at $626.) This add-on is optional.

*** To view Janome's complete holiday gift guide, please click HERE. ***

Machines that are NOT on Janome's gift guide
Many of our best-selling machines, including the QDC lineup and the MC 9850, are not listed in Janome's gift guide. We wanted for customers who purchase these machines to be able to receive holiday bonuses as well. As a result, machines that do not appear in Janome's gift guide will receive a gift card to Sew Sew Studio that's worth 10% of the price of the machine.

For example, the 4120 QDC is $799, so you'll receive an $80 store gift card.


Here's a preview of the holiday bonus offers of our most popular machines.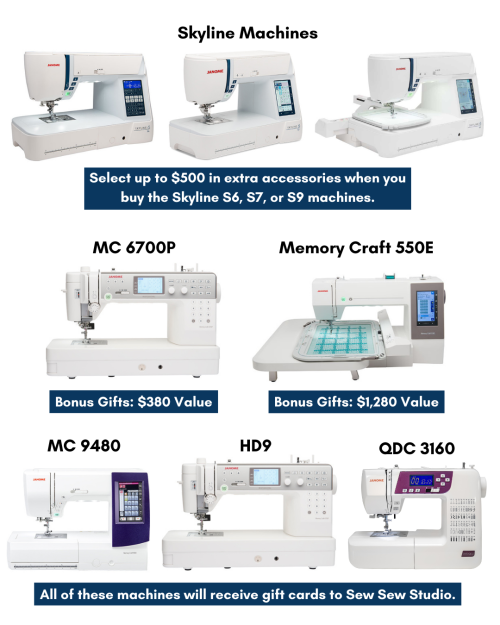 It's THE moment to buy a new machine!
The holiday bonus offers that are listed above end on December 31, and they are not exclusive to Black Friday. However, if you take advantage of any of the promotions that we've listed below, you'll get the free/discounted Black Friday offer AND your machine's respective holiday bonus offers. You'll double your savings!

The offers that are listed below are ONLY valid on Black Friday.


FREE Universal Table
When you purchase the Continental M8



The Continental M8 table is the perfect complement to your awesome machine! Just fit your CM8 into the table's opening and you'll be able to achieve a flat sewing surface. Measuring 48" L x 20" D x 30" H, this table features a sturdy metal frame and a generous work area, ideal for quilting even the largest of projects. Our favorite part? It's very slim and compact, allowing you to fit it in tight spaces without the need to compromise any precious sewing space. With two drawers and a cubby on the left, you can easily reach for all of your tools and accessories. Every sewing room needs a table like this!




Universal Table Special


Universal tables are on sale for $399

Not interested in purchasing the Continental M8? You can still purchase a fantastic universal table for only $399.

We initially offered a similar deal on floor model tables, but they sold out almost immediately. This sale is for BRAND NEW tables, and will include a custom insert for your machine.


The tables measure 45" W x 17.5" D x 29" H and will fit any Janome machine.
FREE Accurate Stitch Regulator
When you purchase the MC 9480
A FREE stitch regulator AND a bonus gift package? This might be our best Black Friday deal!


FREE Drawer
When you purchase a longarm machine

Take advantage of the empty space under your machine and install this sleek drawer that will fit everything you need for longarm quilting.



FREE Wings
With the purchase of the 18" Versa stationary longarm machine


Add some space to your sewing area with these wings! They're a set of two, and each wing measures 18"; if you install them both, you'll achieve a 36" work space. When the machine is not in use, the wings fold down easily. (P.S: The Versa is on SALE, too. The price is too low to advertise, so you're going to have to stop by to check it out. ☺)
AirThread & CoverPro Specials
Bonus accessory packages are FREE

Normally priced at $173 (AirThread; original value of $370) and $273 (CoverPro; original value of $626), you'll receive the accessory packages of both of these machines for $0. You'll have sew much fun with everything that's included!



Ava Cabinet Accessory Bundle for only $999
When you purchase the MB-4S or MB-7
We lied - THIS is our best Black Friday deal!

Treat your MB-4S or MB-7S multi-needle embroidery machines to the Ava Cabinet accessory bundle! It includes the Ava Cabinet, a luxurious fixture with a spacious table surface and all the drawers. You'll never run out of thread with the bundle's 77 thread spools, and, as if that weren't enough, you'll also receive a hat hoop.



50% OFF All Luggage
Your machine deserves to travel in style!
We have trolleys for all types of Janome machines so that your machine can accompany you safely wherever you go. This offer is valid for in-stock trolleys only.


Sewing Goodies SALE
Stock up because these are our biggest discounts ever!
The sales listed below start on Friday, November 24.



Includes quilt kits, wool mats, presser feet, rulers, rotary cutters, books, and all the fabrics from your favorite designers. The only things that are not included are sewing machines, trolleys, and furniture, but they have much better promotions. (See above. ☺)

*** Click HERE to start shopping now! ***
Offer valid online and in-store from Black Friday through Sunday; valid online only on Cyber Monday.

Last but certainly not least, all of our Halloween fabrics and precuts will be 50% off. Help us make way for new fabrics in the coming year!

Offer valid in-store on Black Friday.