Skip Navigation
Website Accessibility
You get bonus gifts, and you get bonus gifts...

EVERY machine purchase this holiday season will get a bonus!

Here's what you could receive:

For machines that are on Janome's holiday gift guide
Every year, Janome releases a holiday gift guide. Click HERE to see it.
This guide features their most popular machines, and if you purchase one of these machines, you'll receive one of two things:
• A free bonus gift
OR
• A discounted gift package

The machine that you purchase will determine if you get a free gift OR a discounted gift package.
Most machines that are listed on the guide come with a free bonus gift, but there are some that only have a discounted gift package.

For example, if you purchase the 550E embroidery machine, you'll receive a free bonus gift valued at $1,280. If you purchase a CoverPro 3000P, you can add-on an accessory bundle for $273. (It is valued at $626.) This add-on is optional.

*** To view Janome's complete holiday gift guide, please click HERE. ***

Machines that are NOT on Janome's gift guide
Many of our best-selling machines, including the QDC lineup and the MC 9850, are not listed in Janome's gift guide. We wanted for customers who purchase these machines to be able to receive holiday bonuses as well. As a result, machines that do not appear in Janome's gift guide will receive a gift card to Sew Sew Studio that's worth 10% of the price of the machine.

For example, the 4120 QDC is $799, so you'll receive an $80 store gift card.


It's THE Moment To Buy A New Machine!
These bonus offers end on December 31. Visit our store this holiday season to take advantage of them!

*** Black Friday BLOWOUT!***
We've never had a sale as big as the one that we're having on Black Friday. If you purchase a machine from us this Black Friday, you'll receive ALL of the offers that we've listed on this page PLUS a FREE universal table, stitch regulator, drawers, and much more. Click HERE to see all of our Black Friday deals. You can't miss this spectacular event!


Holiday Gift Guide Preview
Here's a preview of the gift packages of our most popular machines.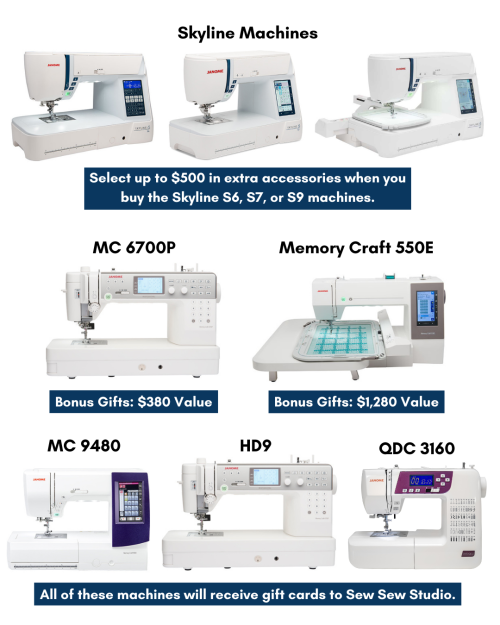 Additional Benefits
Don't forget that you'll also receive the following perks with your machine purchase:

• Quality with every stitch - Each of the Janome machines that we offer is reliable, user-friendly, and built to last. You can rest assured that when you purchase a Janome, you're getting a machine that will be with you for many years to come.

• Free and unlimited owner's lessons - We'll teach you how to use your machine for free, however many times you need.

• Try-before-you-buy - Our friendly and knowledgeable staff will be happy to help you find the machine that's right for you.
Once you find it, try the machine out for as long as you need. You can even bring in your projects and see how they'll sew on the new machine.

• Flexible financing option available*
*Terms apply

• Our in-house service technicians are on-hand for troubleshooting or for machine service repairs.

We offer all of these benefits because we want to make sure you are happy with and understand your new machine.
If you need a new machine, the best place to get it is at our store.


Ready To Buy A Machine?

Visit our store to purchase your dream machine today! Click HERE to find our address.

You can also call us at 678-661-0201 or email us at Store@SewSewStudio.com to request more information.

Happy sewing!